Need Help Paying for a Trip?
Campus Recreation is excited to offer a fee waiver for students interested in participating in programming at any of our centers, made possible through a partnership with Amazon. Any current and active fee paying UC Davis student can apply for a fee waiver to enroll in classes at less than the usual cost. More information can be found with the Campus Recreation Fee Waiver Application. If you are interested in obtaining a fee waiver, make sure to fill out the application ASAP. It could take up to 3 weeks for your application to be reviewed. Fee waiver funds can not be used to reimburse you for a trip you have already purchased.
Price Key
A: UC Davis Student/ARC Member
B: Non-UC Davis Student/Non-ARC Member
---
Trip Dates and Enrollment
Trip Dates:
Saturday Trips - June 12, July 3, July 10, July 17, July 24, July 31, August 14, August 21, September 4
Sunday Trips - June 13, September 5
For more information see our Rafting FAQ sheet
Fee: $65 per person
Whitewater Rafting on the South Fork American River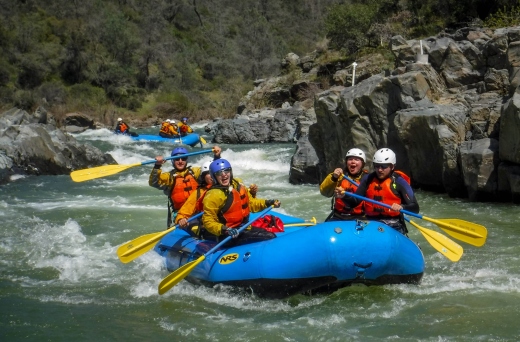 You'll spend an exciting day paddling a guided raft down the thrilling whitewater rapids of the nearby South Fork of the American River, California's most popular whitewater run. Many groups take advantage of these trips to share an adventure with friends. You just need to show up and be ready to paddle, we will take care of the rest.
Come enjoy a fantastic day on the river with OA!
Participants will be responsible for bringing their own lunch and snacks as well as providing their own transportation to the put-in location.
This activity has an age minimum of 13 years old.
Do you have a group of 8 or more folks and want to raft on a date that's not scheduled, or without outside folks on the trip? CLICK HERE to fill out a private group booking request form.
SAMPLE ITINERARY
9am: Meet at the Put-In Location
9:30am - 10:30:  Perform Vehicle Shuttle
10:30am: River Safety Talk
11:00am: Put on the River!!
12:30pm: Riverside Lunch
4:00pm: Take Out
6:00pm: Return to Davis