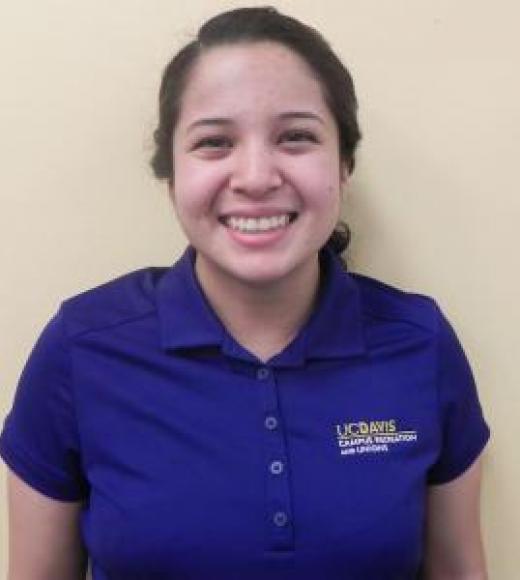 Unit

Resistance Training: Strength

Functional training, mobility, and stability
Bio
Fitness Philosophy
I believe everyone is unique and, therefore, each person's fitness program should be specific to meet and incorporate those unique qualities. As a trainer, I wish to help each person achieve their goals through a fitness program where the person feels comfortable, successful, happy, and healthy.
Background
My name is Melissa Garcia Galvan and I am currently studying Clinical Nutrition and working towards pursuing a career in physical therapy. Before coming to Davis I lived in a small town located in the Eastern Sierras of California called Mammoth Lakes. Throughout my life I have been involved in numerous sports, for example softball, tennis, skiing, running, and weight training. When I first started my fitness journey, I was nervous, but soon fell in love with the process.  I fell in love with it because I was able to see the progress and the potential in me through the help of others. Just as I had people helping me, I want to help you take that first step into fitness and achieving your goals.
Personal Interests
Softball
Skiing

Downhill and cross-country

Animals
Nature
Weight Training
Alternative Music
Hiking
Certifications
Certified Personal Trainer through the American Council on Exercise (ACE)
American Heart Association First Aid/ CPR/ AED
Specialties
Resistance Training: Strength
Functional training, mobility, and stability
Schedule
Please click here to view the trainer's schedule and availability.