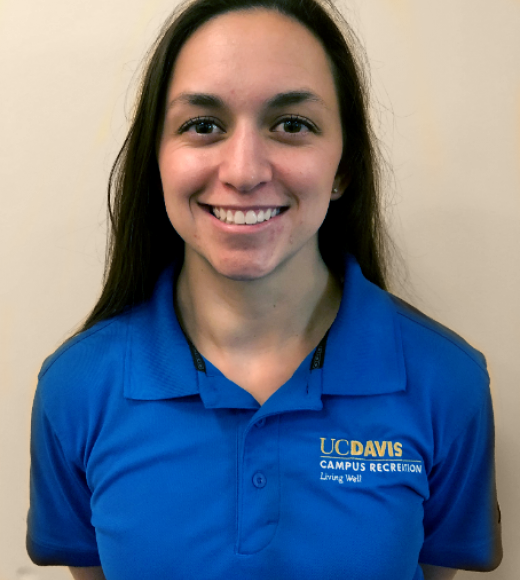 Unit

HIIT - High Intensity Interval Training

Explosive speed and agility training

Strength training

Circuit training

Functional fitness
Bio
Fitness Philosophy
I firmly believe being "fit" and "healthy" looks different for everyone. Being healthy and physically well is being able to comfortably complete tasks in one's daily life, whether that means a parent being able to run around and keep up playing with their children, a mail delivery worker being able to finish their long and lengthy walking routes, or a teacher having the strength to stand on their feet all day. No matter what the end goal is, my motto is always focus on the fundamentals. Advancing skill and strength will come naturally if we first excel in the fundamentals. Train hard, HAVE FUN!
Background
I'm going into my fifth year here at UC Davis majoring in Human Development. I'm from San Luis Obispo where I grew up training with my dad who used his specialization in kickboxing and jiu-jitsu to train UFC fighters after his professional boxing career. Outside of MMA, I was involved in a multitude of sports and activities including surfing, soccer, beach volleyball, tennis, basketball, and triathlons. In high school I chose to play volleyball, basketball (favorite), and track. In college I played rugby for 3 years for UC Davis Women's Rugby. Outside of sports, I enjoy attending UC Davis. I love this city and the people who create such a wonderful atmosphere. Some fun facts about me: I ride a Harley Davidson, I've worked as a student mechanic for ASUCD Unitrans for 4 years now, and I have a passion for scuba diving and I aspire to be a Navy Diver after college.
Personal Interests
Outdoor activities: scuba diving, swimming, rock climbing, rugby, snowboarding
Traveling to different countries - I've been to Jamaica, Cyprus, Curacao, Barbados, Mexico, Bahamas, Dominican Republic, London, France, Sweden
A much needed lazy day now and then
Certifications
Certified Personal Trainer, American Council on Exercise (ACE)
American Heart Association First Aid/CPR/AED
Education:
University of California, Davis | Class of 2020
B.S. Human Development
Specialties
HIIT - High-Intensity Interval Training
Explosive speed and agility training
Strength training
Circuit training
Functional fitness
Schedule
Please Click Here to view the trainer's schedule and availability.