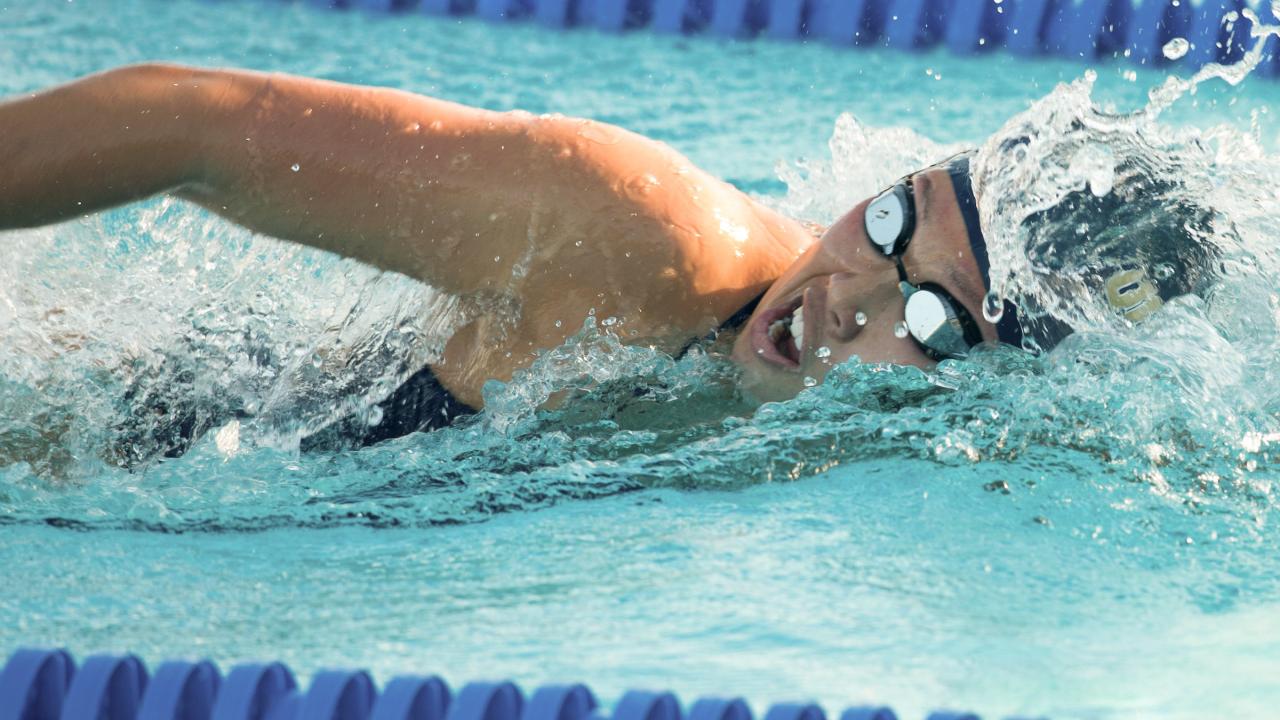 The UC Davis Triathlon Club presents Andie's Aggieathlon, a virtual triathlon on May 14–16.
Andie Lindeman was a beloved teammate and friend who passed away this last fall. In honor of her memory, the team is holding this virtual sprint triathlon on the weekend of May 14-16, 2021. They hope to recruit as many friends, family, and community members as possible to join them in this free event to encourage connection among athletic communities, show our love for Andie, raise mental health awareness, and of course, have some fun! 
About the Event: 
Andie's Aggieathlon will take place all weekend, starting with an opening ceremony on Friday, May 14. All race submissions must be sent in by 5 p.m. on Sunday, May 16. The team will release the results and hold a closing ceremony sometime the following week. Participants may complete the race in one of two brackets: 
Competitive race: Racers in the competitive field will complete all three legs of the triathlon in the order of swim, bike, run. In order to replicate an actual triathlon as closely as possible, a maximum transition time of 15 minutes between each discipline will be allowed in order to allow racers time to change location if needed (ie. having to drive from the pool to a place to bike). Transition times will not be factored into race times. People with special logistical considerations who need more than this amount of time may reach out to the team. The submissions will be ranked in female/male and collegiate/age-group categories. *Note for Collegiate Racers:  This is not a USAT sanctioned event, and points towards future races will not be awarded.

Non-competitive participation: Participants in the non-competitive field will not be ranked by time and can complete all three legs at any point between May 14–16. This bracket will also serve as a racing platform for people without access to a pool. In this case, participants may alternatively complete a duathlon in which they substitute a 1.5 mile run/walk in place of the swim. 
Additionally, there will be superlatives that both fields can compete for via submissions and polling over the course of the weekend. All times, superlatives and verifications will be submitted via a google form (to be sent out later). 
Race Distances:
SWIM: 500 yards
BIKE: 12 miles
RUN: 3.1 miles
Finally, while this event is absolutely free of cost to all participants, the team will be accepting donations in Andie's honor. In accordance with her family's wishes, all proceeds will go towards supporting UC Davis Triathlon Club to make the sport more widely accessible to any student who loves this sport and its community as much as we do! For more information, please see the GoFundMe.
Please share this event flyer with your friends, family, or anyone else who you think would be interested! The team's social media info and a link to register can be found on the flyer as well.  If you have any questions or concerns, please feel free to reach out to the Vice President, Fiona Swift (fcswift@ucdavis.edu), or the race director, Tristan Saltonstall (tbsaltonstall@ucdavis.edu)
We look forward to "seeing" you at the ceremonies!