Summer 2020 programming at the Rec Pool includes Group and Private Lessons for students at all levels of ability (see lesson levels). We also offer a one-week Junior Lifeguarding course for pre-teens and teens ages 12–14.
Lessons are 35 minutes long and class days vary depending on the season. Overall class length is one, two, or four weeks depending on the type of class (Group or Private). See the lesson descriptions and class schedule below for full information.
Youth Lessons are divided by swim level. Due to the many skills required at each class level, it is not uncommon for children to repeat a class. After taking a class, if your child does advance to the next level, please be sure to notify the Aquatics staff on the last day of your child's lessons so we can move them into the next level (based on availability).
Adult Learn-to-Swim Lessons offer blended skill instruction in one class. Participants of all ability and skill levels are welcome.
We make every effort to accommodate all interested participants by adding classes when needed, based on demand and available pool space. This means we sometimes must cancel or combine classes with fewer than three participants, and we reserve the right to do so.
Summer
$80 || Early Enrollment Opens March 9th, for CDC Patrons. Click here.
Community Registration will open March 16th. 
If the above link is unsuccessful, please head to rec.ucdavis.edu instead. 
Class sessions are two weeks long, meet Monday through Thursday, and last 35 minutes. For class times, please see our Lesson Calendar below.
Session 1: June 22–July 2
Session 2: July 6–16
Session 3: July 20–30
Session 4: August 3–13
Private lessons offer you or your child the opportunity to receive the individualized attention to overcome that next swimming hurdle. Designed for all ages and ability levels, private lessons provide a one-to-one teaching-to-learning experience. The instructor will work with you to determine personalized class objectives for you or your child.
Summer
$125 || Enrollment Opens March 16th, 2020 - Sign up today! Click here.
Classes are one week long, meet Monday through Thursday, and last 35 minutes. For class times, please see our Lesson Calendar below.
Session 1: June 22–25  
Session 1: June 29–July 2  
Session 2: July 6–9  
Session 2: July 13–16  
Session 3: July 20–23  
Session 3: July 27–30  
Session 4: August 3–6  
Session 4: August 10–13  
Batray
Recommended for children ages 3–5. This class is for children ready to swim on their own. We will explore water adjustment and confidence skills through fun games. The focus of these sessions is to help your child become comfortable putting his or her face in the water, so that your child will be prepared to move on to more advanced swim techniques in future lessons.
Cod
Strongly recommended for children ages five and up (due to the more structured learning environment of this class). Children entering Cod-level swim lessons should be comfortable submerging their heads underwater before the start of the session. Emphasis is placed on children learning to float independently on their front and back sides and to kick in both positions.
Dory
At this class level, children should already be comfortable performing front and back floats and recovery. Participants will perfect their front and back kicks across the shallow end of the pool and learn the three components of the front and back crawl strokes.
Eelpout
In this class, your child will perfect the front and back crawl strokes in a deep-water environment, with emphasis on coordinated breathing. Participants will also learn the arm and leg movements and overall coordination of elementary backstroke.
Flying Fish
Learning the fundamentals and coordination of breaststroke and sidestroke is the focus of this class. Your child will also continue perfecting the elementary backstroke, work on swimming longer lengths, and improve endurance over longer distances.
Group Lessons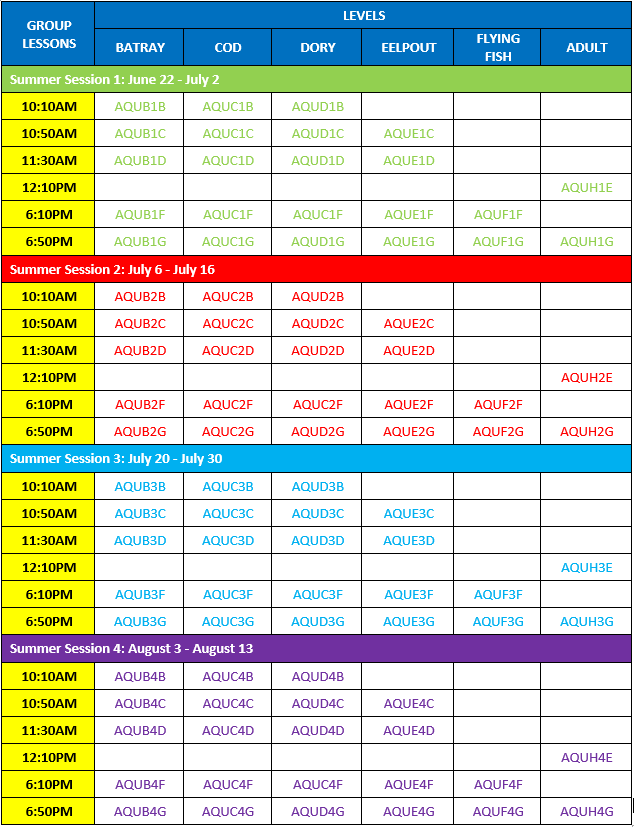 Private Lessons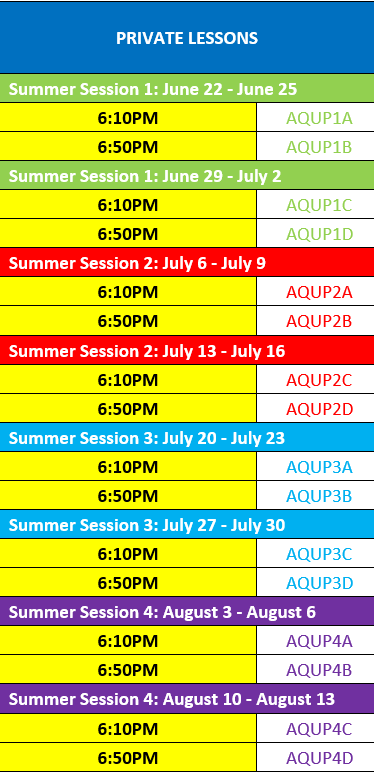 We offer a Junior Lifeguarding program to those who are between the ages of 12 and 14 with the Halibut (highest) level of swimming ability. For more information about this program, please view our Junior Lifeguarding page.
Enrollment Opens March 16th, 2020 here.
New Users
Create a profile for yourself today at myrecreation.ucdavis.edu. Click Login at the top right of the page, select your affiliation, and Continue. UC Davis users will create their account using Kerberos, and community members will click Create an Account.
Once you have created a profile, you may begin adding child dependents to your household. Click My Profile at the top right of the page (if you don't see this, Login first). On the My Profile page, select My Family and then Add Child Dependent.
After completing all the above steps, you will be able to register for Swim Lessons on March 11 at noon. If you have trouble with online registration, call Campus Rec Reception during regular business hours at 530-752-1730.
How to Find Lessons in the Online Store
Option One (recommended)
The easiest way to find the program you are looking for in the online store is to type the session code into the search bar at the top of the screen (e.g., the session code for Summer Session 1 of Batray at 10:10a "AQUB1B"). This will take you directly to the program you are looking for. Use the Lesson Calendar as a quick guide for session codes.
Option Two
If you are not sure which program you are looking for and would like to review all the programs in the store, select the Aquatics link on the left-hand navigation bar. This will bring you to a list of everything available for online registration. You can then select the session of your choice by clicking the "Add to cart" button next to the session you would like to register for.
Waitlists
The session you are hoping to register for may fill up quickly. If you notice a "class full" message, we encourage you to enroll your child in an alternate program. However, you may also secure a spot on the waiting list for that class. Waiting lists share the same class name as their parent program (e.g., Youth Group – Batray), are classified as "waitlist" in the class details, and include an appended "W" at the end of the camp code (e.g., AQUB1BW).
Payment Options
Payment is due at time of registration. We accept Visa, MasterCard, Discover and American Express.
Note: Discover and American Express payment options are only available online. Visa and MasterCard may be used online or in person. We are unable to take registrations over the phone. If you would prefer to register in person, please visit the Business Center at the ARC.
Swim Lesson Refunds
All transfers, credits, or cancellations received prior to 21 days before the first day of session are assessed a fee of $15 per child, per program.
Medical Refunds
Requests for refunds, credits, or transfers in cases of illness or injury are considered up to the first day of camp only when accompanied with a doctor's note and letter from the parent/guardian requesting the exception. If the vacancy can be filled from a waiting list, we issue a refund, credit, or transfer, minus a $25 fee. If the vacancy cannot be filled, no refund, credit, or transfer is issued. Absolutely no requests are considered after the first day of camp.
Campus Closure Policy: If the University cancels academic classes (closes campus), we will likely cancel all recreational programming and close certain facilities, etc. Efforts will be made to reschedule canceled classes/activities once campus re-opens. No refunds or prorations for a membership or canceled classes/activities will be issued.