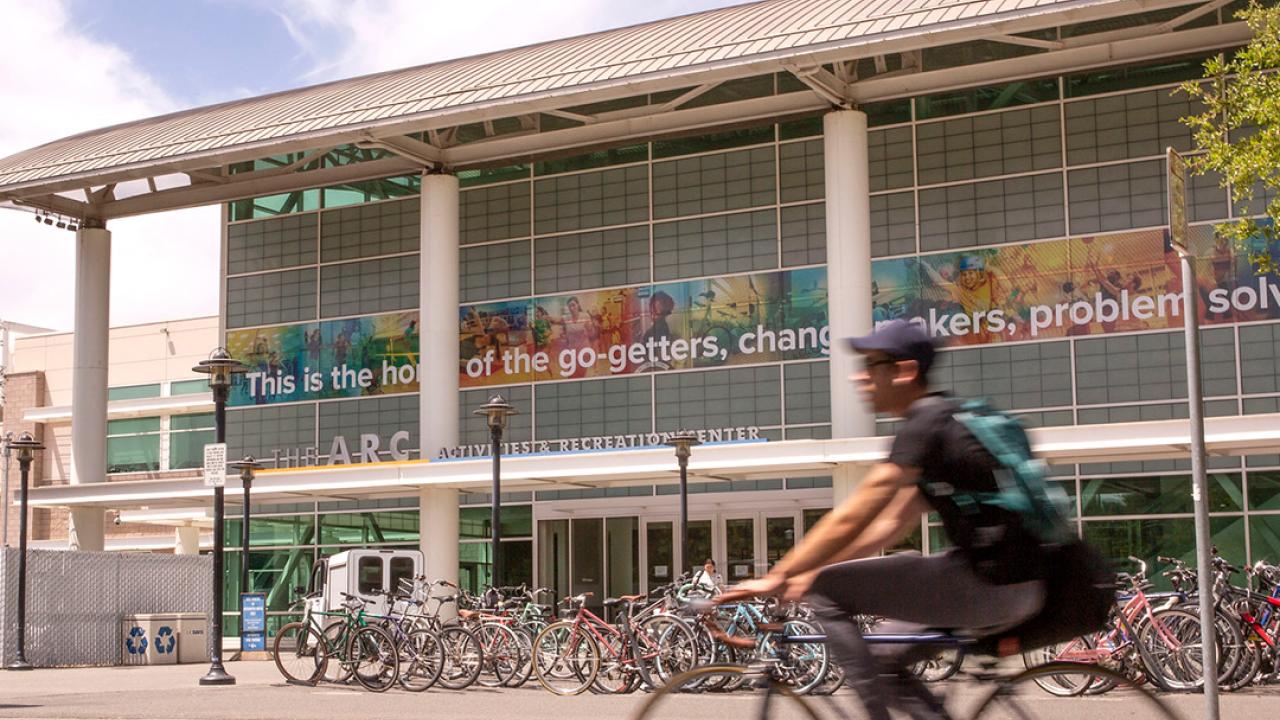 Please see below for an update on our plan to return to in-person operations at the ARC and Craft Center as Yolo County transitions into red tier status.
The county tier status is dynamic and may shift in either direction in the coming weeks. Campus Recreation will be implementing a gradual and phased return to in-person operations for the ARC and Craft Center in consideration of the significant capacity restrictions and lead time required to adjust staffing and facility protocols to meet evolving guidance. 
We hope to safely open and provide priority access to students starting on November 1. Faculty and staff members may return on December 1. This staggered timing will allow us to appropriately assess the COVID-19 trends in our community before expanding services and access to each additional group. Based on the county guidance, we must adhere to 10% maximum occupancy for fitness and gym facilities and meet other requirements including equipment placement, activity approval and monitoring of our patrons' public health requirements. 
Please note that this phasing plan is pending final approval from Yolo County Public Health. Should Yolo County shift back to purple tier status after reopening, the ARC and Craft Center will be required to close in-person operations at that time.  
We recognize that access to physical activity provides significant benefits for physical and mental health and are doing our best to ramp up our operations and access to the ARC in an intentional, thoughtful and prudent manner. We are experiencing a high level of engagement with our Aggies at Home series offering live and recorded online workouts in the comfort of your own home. We will be continuing this program for the entire school year and likely beyond.  
Please look for additional information regarding ARC workout reservations soon. The Rec Pool, Outdoor Adventures and Equestrian Center will remain in their current operational status. 
Online Reservation System
Prior to entry, patrons will need to complete the UC Davis Daily Symptom Survey. The survey asks yes/no questions regarding your possible COVID-19 exposure. You are required to cancel your reservation if you experience any symptoms related to COVID-19 before your reservation.
Reservations for the ARC open November 1 and can be made online through the Rec Portal. Although you are limited to one session per day, you may register for multiple days at a time (up to three days in advance).
Reservation time slots are one hour and fifteen minutes in length. Patrons must show up within the first hour of their reservation to gain access. Please note that the facility will be closed for 45 minutes between time slots for cleaning. 
How to make a reservation:
Log in to the Rec Portal 
Click the Facility Reservations icon
Select your facility (e.g. ARC, Craft Center, etc.)
Select desired day and time slot
NOTE: You may only reserve one time slot per day, but you may reserve multiple days at a time (up to three days in advance).
Beginning Friday, October 29th UC Davis Students with an active memberships can reserve a timeslot for November. 
Beginning Saturday, November 28th UC Davis Faculty and Staff with an active membership can reserve a timeslot for December. 
How to cancel a reservation:
Log in to the Rec Portal 
Click the Facility Reservations icon
Click on the three dots next to the facility name and choose "Cancel Booking"
Thank you for your patience and understanding during our closure. We look forward to providing you with a great experience when we reopen. Please check back here for regular updates. If you have any further questions, please feel free to contact memberservices@campusrec.ucdavis.edu.  
Our team is looking forward to welcoming you back to Campus Recreation.  We have missed you! Wishing you well!