2022 NIRSA Wasson Award Winners
Three UC Davis Students honored with this year's NIRSA Region 6 Wasson Award.
This year, UC Davis Campus Recreation was honored to have three students selected for the NIRSA William N. Wasson Student Leadership and Academic Award. These awards recognize exceptional undergraduate and graduate students who set the standard for campus recreation departments across the country. Four students from Region VI (comprising Alaska, Washington, Oregon, Montana, Utah, Idaho, Nevada, Arizona and California), were selected—three of them are Aggies! We are honored to congratulate Annie Breger, JT Lee and Pierce Desmond as recipients of this year's NIRSA Wasson Award.
Annie Breger
Annie has been an active member of Campus Recreation since her first year at UC Davis. She is graduating this fall with a double major in English (British and Commonwealth) and Communication. Within Rec Sports, Annie worked as a Rec Sports official, Competitive Sports supervisor, and a Competitive Sports manager. She has played an integral role in developing our brand new Supervisors and Officials by using the knowledge and experience she gained from previously holding those positions. She pushes herself into uncomfortable positions of leadership in order to challenge and build her skills; such as becoming a Youth Programs student manager in such a short amount of time. She was a critical team member while Youth Programs reopened after the pandemic.   She seeks out leadership opportunities, such as being involved on the Recreation Advisory Council where she advocates for her peers and their needs. She is also a member of the Regents Scholar Society. As an undergraduate student, Annie has logged over 40 hours interning at Davis Senior High School. In the position of a student-intern, she took initiative on lessons, facilitated whole-class discussions, and guided motivationally challenged students to success. Annie exemplifies leadership qualities in so many aspects of her life; we are excited that she was awarded this honor. 
JT Lee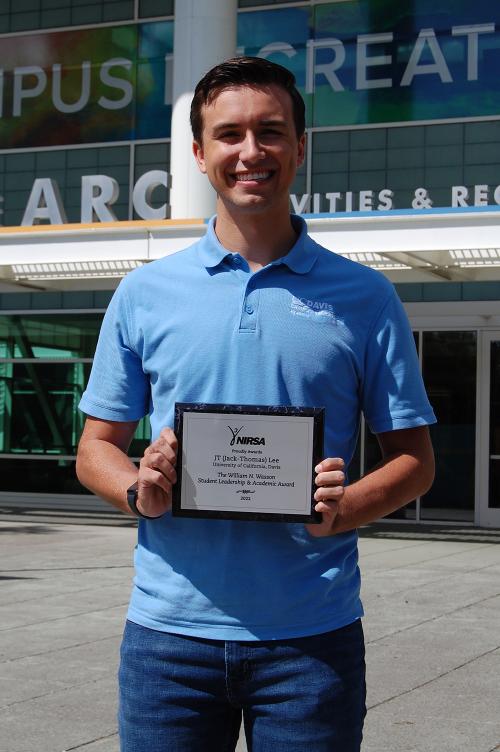 JT has been an outstanding leader among our Aquatics team for nearly three years. He is graduating this year majoring in Community and Regional Development. He is a lead instructor for the Aquatics in-service training, working with our Assistant Director of Aquatics to plan and implement monthly training on lifeguard skills, drills and emergency action plans. JT not only is an exceptional trainer and teacher, but he is also always looking for ways to bring the team together to build community. JT has helped to initiate several team-building activities that were especially challenging during the remote pandemic. When it was time to re-open the pool after the initial pandemic closure, JT played a crucial role in developing COVID protocols and procedures. JT was responsible for the delivery of training on protocols and expectations for all lifeguard staff as Aquatics reopened. Not only is JT a leader in Aquatics, but he is also a leader on campus. He is a member of several committees in Student Affairs, most notably, the Council on Student Affairs and Fees. His work on this council is extremely important for the student population as a whole. Campus Rec is excited that JT's receiving this award marks three years in a row an outstanding student leader in Aquatics has received this award!
Pierce Desmond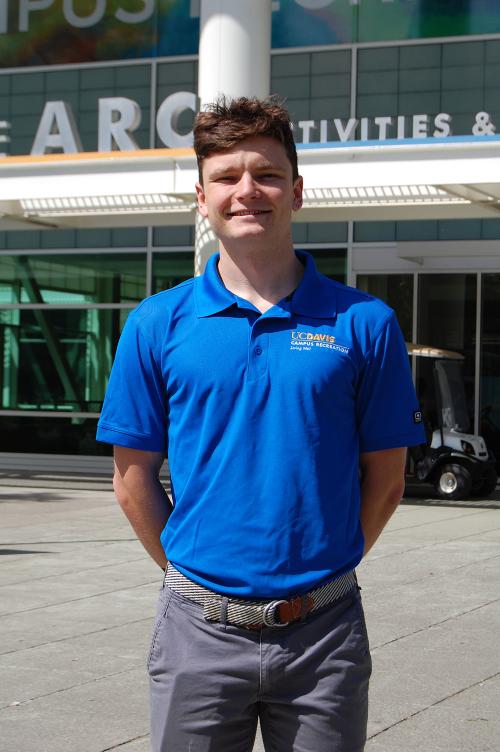 Pierce has been an amazing addition to the Campus Rec student team ever since he joined as a personal trainer in his third year. Currently a fourth year, he is the Living Well Student Manager who helps oversee the Personal Training team. His impact on the Personal Training team has been tremendous as a mentor trainer, as he helped the team navigate all the changes through COVID and facilitated digital workouts when in-person operations were stopped. Outside of his actual training, he continued to stay productive by putting together professional development resources for the team and working on how to improve the internal Personal Trainer Leadership course we use to help our students become professionals. Not only has Pierce been involved with our CR team, but he has also been doing great things for the greater Davis community. As a regular volunteer with the Yolo County Food Bank and a youth leader within his church, we have loved having Pierce on our team. He is someone all our students can look up to.